Thursday 05 April
This Last Week I've Been Weeding The Overgrown Front Garden

Look!
No Weeds !
I Created Plastic Circles To Retain Water
Around My Azaleas & Other Plants
It's
Planting
Time !






Friday - 06 April

My Azaleas Were All Blooming Like Crazy! On Easter Sunday, Freezing Weather Eradicated All Blooms !




Thursday - 12 April
Instead Of Covering The Entire Garden With Mulch,
I've Decided To Create Concrete Stone Pathways !

Installed A
New Planter Too!
You Can Do Wonders With A Plastic Form
And 80 Lb Bags Of Concrete !
I Used Plastic
Lawn Edging
To Create
Flower Garden
Terraces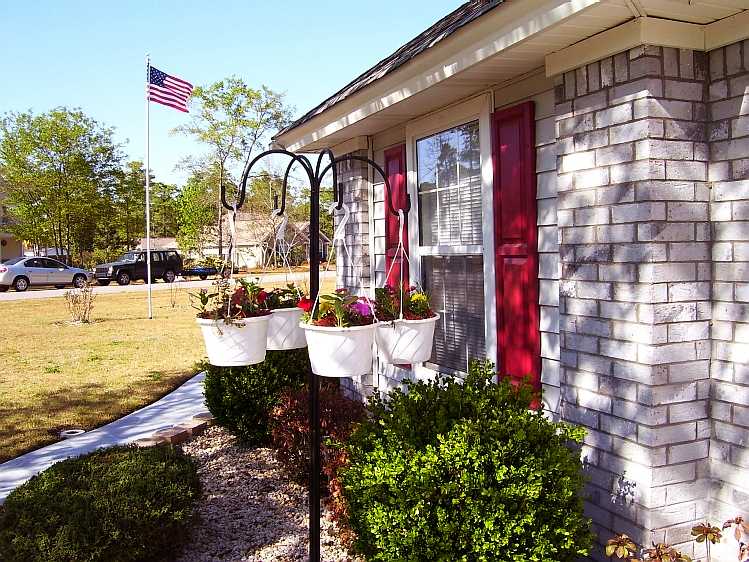 Sunday - 15 April

My 'First
Walkway' Is
Coming Out
Fine !
Working almost every day, it took until 13 May to finish this project
(But it was worth it ;-)
See May 2007 photo menu for photos of finished project.


See More 'April Photos' Below


Thursday - 26 April
Pat & Wes Brockway 's Whirlwind Visit to Myrtle Beach !

Chuck & Mocha
Mocha Gets Some Lovin'
Would YOU Do This?
Mocha Takes A Lick
Then Wants The Whole Arm !





Munching A Few Fingers !
Note The Paw Gripping Chuck's Arm!
Just TRY To Move Your Arm, Chucko!
Mocha Performs For Pat & Wes




Pat & Dale
Enjoy
Myrtle Beach
Wes
On The
'Grand Strand'
Pat
Pier 14
Dale
Pier 14





Barry
Pier 14
Wes & Pat
Dale
Celebrity Square
'Broadway At
The Beach'
Wes & Pat
Try Out
Elvis' Motorcycle !
Barry Holds
On To
The MommaCyclist !
Pat & Wes
Myrtle Beach




Wes & Pat
Dale
Check Out
Karen & Chuck's
New Home
Barry
Pat & Wes
Dale
Nico's
Garden City