Monday - 14 May (Day One)
After More Than One Year Of Planning (etc)
Construction Begins On The Addition To Our Myrtle Beach Home !

View From Inside The House.
Concrete Forms Are Erected!
(Our Builder Hired Max, The Same Guy Who
Did Lots Of Concrete Work For Chuck & Karen At
Their Pro-Tech Auto Business) !


View From Side Street (Pinfeather)
Looking Towards Pinfeather Dr.



Monday 14 May & Tuesday 15 May (Day Two)

(Tons Of Concrete Will Also
Bury Those Pesky Moles,
Who Have Been
Digging Up Our Lawn)!
Max's Workers
Start Backfilling
To Raise The
Floor Level
Need To
Remove Most
Of Patio &
Dig Hole For
New Foundation
Four Inches Of
Concrete Will Go
Above The
Dirt Backfill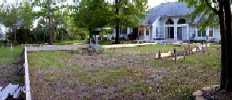 Max Jr
Backfills With
A Bobcat
Backfill Task Is Complete!
Trenching The Foundation Perimeter
Making Space For Rebar Framework





Wednesday - 16 May (Day Three)

Ready For Inspection By The County.
Unfortunately, Lots More Work Required By Inspector
So No Concrete Will Be Poured Today!



In The Afternoon Dale Volunteered At The Jamin' Leather Auction.
The Red Cross Receives All Proceeds From This Annual Auction
Held During The Harley Davidson Rally ("Bike Week")

Touch Me
And I'll Ring
This Bell
So Loud ...
Dale & Cohorts
'Man' The
Red Cross
Booth
The Access Road
Becomes A
Parking Lot
They Even Provided Chairs
For Us To Sit In While
We Bid Our Money Away ;-)






16 May - 19 May & 20 May

Hey Auctioneer!
We Have A
Bid Over There!
Dale
Official Bell
Ringer
Broadway At The Beach
Filled With Bikes & Bikers !
My Roses
Are Starting
To Bloom !






Tuesday - 22 May (Day Nine)
Eureka! We Passed The County Inspection!
The Concrete Will Be poured Today!

Waiting For The
Concrete Pumper & Trucks
Concrete
Crane-Pumper
Levels itself
Crane Extends
And Unfolds
Crane Extends
Over Our Trees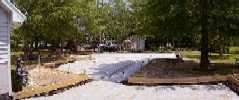 Crane-Pumper Stretches All The
Way Into Our Back Yard !
Builder Aaron
Neal & Crane Operator
Concrete Worker
Sets Stick To
Measure Concrete
Depth
Hurrah! The
Concrete Is
Pouring !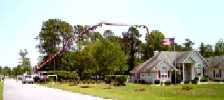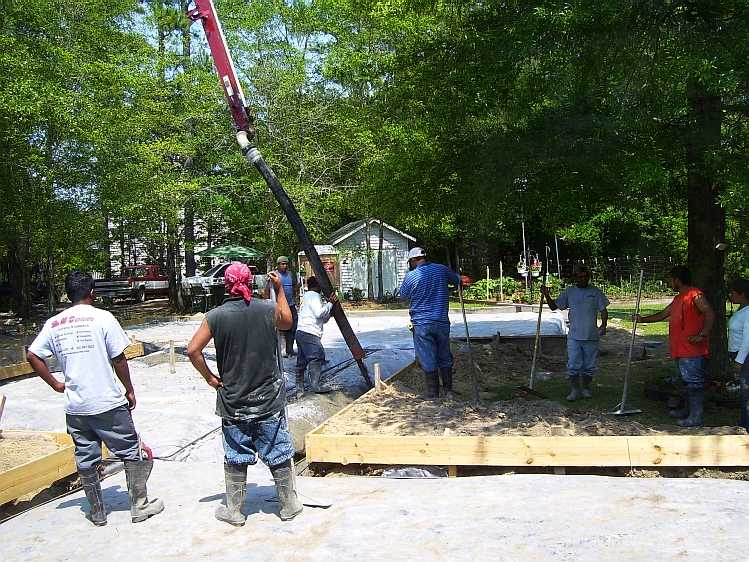 The Perimeter/Foundation Footings Are Filled In First.




Tons Of Weight
Pour Through
This Tube Every
Few Minutes !
The Pump
Operator
Uses A Remote
Control System!
Concrete Trucks
Dump Concrete
Into The
Crane's Hopper
Protecting The
House From
Concrete Splashing
Our Former
Patio Area
Will Be Our
New Living
Room





Soon To
Be Our
Living Room
Floor !
Pumping Heavy Concrete Over
Our Trees And House!
Concrete Trucks Lined Up
To Dump Their Loads
Into The Crane-Pumper's Hopper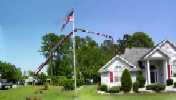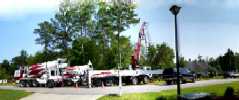 This 'Dry Mix'
Concrete Dries
Fast !
Wading Boots Are A Must!
Hard Work,
Slogging Around
In A Sea
Of Concrete
Remarkable How
They Can
Smooth It
So Quickly !





Wednesday - 23 May (Day Ten)

The Concrete Is Set
The Forms Have Been Removed!
'Framing' (Carpentry) Starts Tomorrow
Barry Got A
Free 30-Foot
Driveway In
The Back Yard!