01 Sep - Inner Harbor, Baltimore, Maryland

Dale & Katia
Inner
Harbor
Pavillion
Kathy
Dale
Jessica
Tom
USS Constellation
Tom
Kathy
Jessica
Katia
Jessica
Kathy
Inner Harbor
Paddle Boat





Kathy
Katia
Jessie
Paddle Boats
Inner Harbor
View
'Girl Power!'
Katia
Kathy
Jessie
Kathy
Katia
Tom
Jessica
Tom & Jessie
Watch A
Busker




Kathy
Tom & Jessie
USS Constellation
Fudgemakers Put On A Show
Inside the Inner Harbor Pavillion!






02 Sep - Annapolis, Maryland

Sharon
Dale
Katia
Shopping
Annapolis
Mall
Katia
Dale
Sharon & Joe King
Famous
Middleton
Tavern
Katia
Cigar Store
Indian
Barry
Katia
Dale
'Ego Alley"
Canal
Wintersux
(For Our
Italian Friends:
Sux = Sucks
Means 'I
Hate Winter')





Katia Chooses Ingredients
For Her Mongolian Barbeque
Chun King Restaurant
Laurel, Maryland
Dale, Katia & Joe King
Watch The Chef
Prepare Their Food





03 Sep - Visit With Sue & Tom Peterson
Lake Gaston, North Carolina
On The Way Back To Myrtle Beach

Tom & Katia
Off To
The Lake !
Tom's
Boathouse
And
Pontoon
Boat
Tom & Katia
Dale
Sue
Tom
Katia





04 Sep - Dale's Birthday
Chuck & Karen Arrange Visit To T.I.G.E.R.S. Compound
(The Institute Of Greatly Endangered And Rare Species)
We Get To Play With Baby White And Golden Tabby Tigers
Wolves, Monkeys And Other Animals !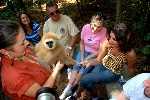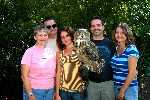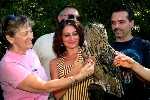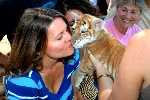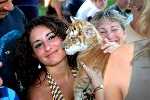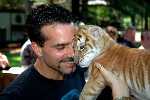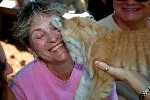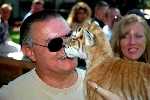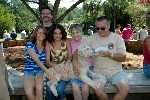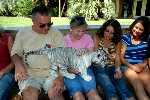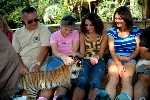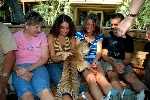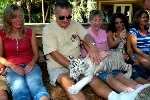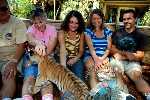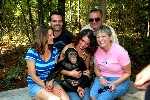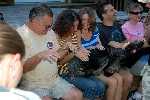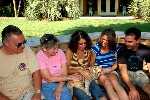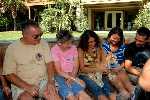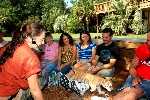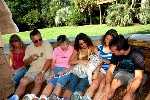 06 Sep - Farewell Dinner In Myrtle Beach
08 Sep - Visit With Carl & Jerry In Charleston, South Carolina

06 Sep
Farewell Dinner
Dale
Bobby
Robin
Karen
Chuck
Katia
Carl
Jerry
Dale
Katia
Charleston
Hotel
Lobby
Jerry & Carl
The Great
Abercrombie
& Fitch Search
For Jackets For
Katia's Cousins
Katia & Dale
Barry & Carl
Whoop It Up !
Get Sized
For Bras !





Katia
Famous
82 Queens
Restaurant
Charleston, SC
Carl
Katie
Dale
82 Queens
Katia
Charleston
Market
Famous
Charleston
Market
Carl
Orders Some
Old Charleston
Ice Cream





Motorcyclist
With
Big
Attitude !
Katia, Dale, Jerry & Carl
Beautiful Old Charleston Houses
As We Walk Along 'The Battery'
Dale & Katia
Sullivan's Island
Katia's First
Daytime View
Of The
Atlantic Ocean !




Dale & Katia
Sullivan's Island
Katia's First Daylight
View Of Atlantic Ocean
Katia
Carl
Dale
Jack's Cosmic
Dogs (Restaurant)
Mt Pleasant, SC




09 Sep - We Depart Mt Pleasant, South Carolina
And Drive To St. Augustine, Florida !

Katia & Dale
Entrance To
Castillo De
San Marcos
Katia & Dale Sun Themselves
On The Ramparts Of
Castello De San Marcos
Katia & Dale
Check Out
The Guard
Tower
Sure We
Like Historical
Places !
Now Where Is
The Shopping
Mall?





Katia & Dale
Demonstration Of
Cannon Shooting
Dale Reads
While Barry
Runs All Over
The Castle !
Dale & Katia
Leaving The
Castle





Katia
Harry's Bar & Grill
Katia & Dale
Old St Augustine Streets
Later That
Day We
Drive South
To Flagler Beach





10 Sep - We Stayed Last Night At Daytona Beach And
Left Early Today For A Visit To
'Downtown Disney' in Lake Buena Vista, Florida

Dale & Katia
Ready To
Leave Our
Daytona Motel
Daytona Beach Still Beautiful !
Downtown Disney
Is Both A
Shopping Area
And An
Entertainment
Area
Unique
Bar Stools
At The
Rainforest Cafe





Dale & Katia
And The
Giant Mushroom
Bar At The
Rainforest Cafe
Many Aquarium
Tubes In The
Rainforest Cafe
Dale And
The Animated
Elephants
Katia & Dale
It's Raining Inside
Rainforest Cafe!
View From Our
Table At The
Rainforest Cafe





View Of Rainforest Dining Rooms And Aquarium Tubes
As Seen From Our Table
Katia Watches
Exotic Bird Show
Outside The
Rainforest Cafe




Katia & Barry
Rainforest Cafe
In Background
Dale & Katia - World Of Disney Store
Katia & Dale
Lego Dinosaur
Dale & Katia
Home At The
Condo (They
Are SO Happy
To Be Home)!






13 Sep - We Visit With Old Friends
Paulette & Bill Davis, Lakewood Ranch, Florida

Bill
Paulette
Dale
Katia
Katia
Enjoys
A Huge
Ice Cream
The Group
At The Local
Ice Cream Parlor




14 Sep - We're Off To The Famous St. Petersburg, Florida Pier
With It's Inverted Pyramid Building

Shopping
In The
Gift Shops
Lunch At
'Cha Cha
Coconuts' At
The Top Of
The Pyramid
View Of St. Petersburg
From The Top Of The Pyramid
St Pete Pier





Katia Feeds The Pelicans
St Pete Pier
Katia Makes
Friends
Dale & Katia
The Pyramid
St Pete Pier





Almost Home
Sunshine Skyway
Bridge
Relaxing At
the Cortez
Kitchen Restaurant
15 Sep
Dale & Katia
Red Barn
Flea Market




17 Sep - Katia's Last Day In America !

Leaving The Condo For The Airport
Sad-Faced
Dale With
Katia
Tampa Airport
Katia
Checks In
Katia Gets
Her Ticket





She's Gone!
Katia Heads
Toward
Her Plane!