Friday - 08 August - We Arrive In Brindisi !

Met At
Airport!
Katia, Nino,
Tony, Dale
Jerome
Tony's Office
A Welcome Beer!
Katia
Tony
Dale
Tony Gives Us
A Quick Brindisi Tour
The Harbor Fishmarket
The Trullo !
Cisternino
Tony, Maria,
Katia, Jerome,
Dale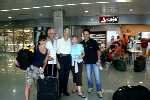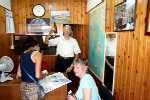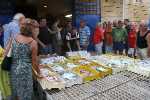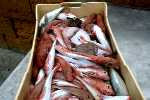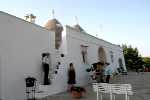 We Stayed With Maria & Luigi In Their Trullo In The Fasola Countryside District of Cisternino. Trulli Are Ancient Circular Homes Designed With Conical Rooftops Which Were Built Without Mortar Until 1797. In 1997 UNESCO Added the Trulli and the Valle D'Itria into its list of World Wonders. Martina France, Locorotondo, Cisternino and Ceglie Messapica overlook the Itria Valley.

Tony ("Nuccio")
View From
Trullo Roof
Katia
Jerome
Maria
Tony
Dale
Tiziana & Dale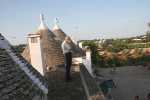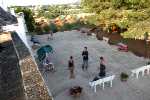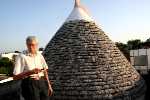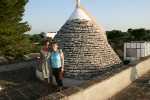 Barry & Dale
View
From
Trullo
Rooftop
Tony & Dale
Nonna (Grandmother)
Tiziana
Maria
Katia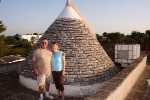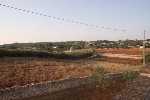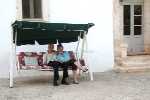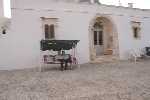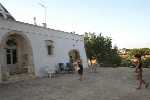 Saturday - 09 August - Woke Up At 4:00AM.
Big Day Today - Lots Of Places to Go & People To Meet !

But Before We Go Further, Here's an attempt to describe 'Who's Who' at the Trullo :
First, you have to understand that there are 4 women named Enza in this family!
And two men named Nino (and two named Mimino, but that's another story :-)
Tony Esposito, Nino Esposito and Maria D'Amico (nee Esposito) Are Brothers And Sister
Their Mother is Vicenza. Everyone calls her 'Nonna' (grandmother)
Tony has a daughter and a son, Enza and Davide
Enza is named after her grandmother
We didn't see Davide this trip. He is a policeman in the Naples area.
Nino has two daughters, Katia and Enza (also named after her grandmother)
Nino's Enza is the one who is being married on the 12th of August.
Katia visited us in the USA in 2007 and is a college student in Naples.
Katia's fiance is Jerome, from France. He is also a student in Naples.
Maria & Luigi have two daughters, Tiziana and Enza, and a son, Dominico (Nico)
Tiziana is married to Nino Mascellaro
Enza is married to Dottore Edoardo ('Edo') Iannaccone
Edo & Enza have 2 children: Ludovico & Vittoria
Maria & Luigi's
Summer Home
View Of Cantina, Trullo & Pineta (Pine Tree Park)
Large Patio
Used To Be
The Farmer's
Work Area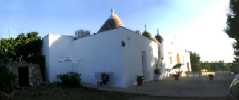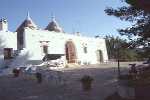 Front Patio & Pineta
View From Pineta
Stairs To Roof
Outside
Shower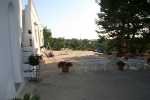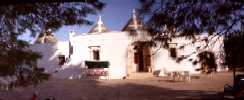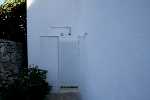 Our Section
Has A Dining
Room, Kitchen
Two Bedrooms
And Bathroom
Dining
Room
Kitchen
Kitchen
Window
Cantina
(Winery)
Now A
Storeroom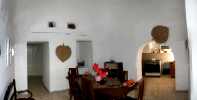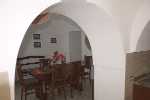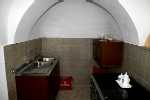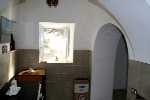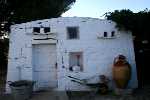 Cantina (Winemaking)
Now A Vegetable/Fruit
Storehouse
Cantina
Old Door
Pineta
Dale Relaxes
In The
Pineta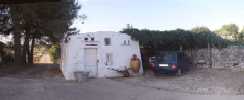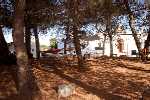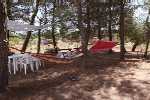 Beautiful Stonework
Trullo Storehouse
Fire Pit
And
Storehouse
Stone
Planter
Almond Tree
We Cracked Them
Open And Ate
Fresh Almonds !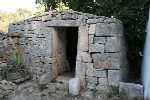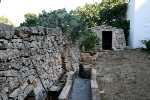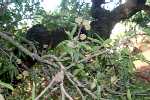 We Visit Gilda & Enza
At Their Home In Brindisi

Dale
Rings
Doorbell
Enza
Gilda
Homemade
Pasta !
Enza & Gilda Like Their
Earrings From Hawaii !
Dale
Gilda
Enza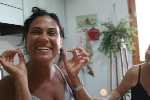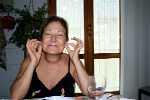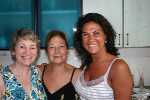 Dale & Barry With Gilda & Enza

Enza's Photos Of Us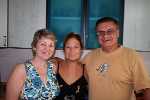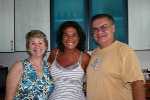 Dale & Barry
With
Gilda & Enza
Dale & Enza
Back In Cisternino
Luigi's Neighbor And His
'Ape Car' (Ah-Pey Car)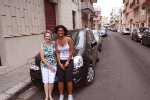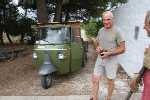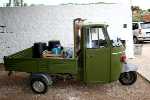 Making Homemade Bread In The Wood-Fire Oven !

Maria, Luigi & Dale
A Few Loaves Are Ready
(Still Working On Making More)
The
Oven
Luigi Starts The Fire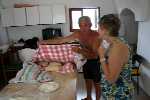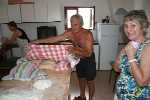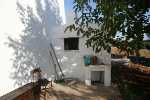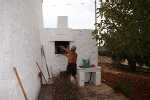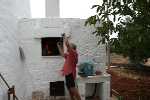 Oven Ablaze
Back In The Main Kitchen (Cucina)
Dale & Nino's Mother Ida Work On Cheese
Nino And Maria Continue Making More Bread !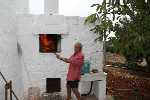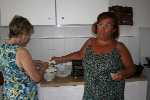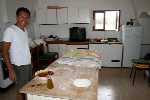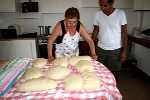 First Loaf
Goes In !
Luigi Loads
Bread As Fast
As The
'Assembly Line'
Brings It To Him
Tony Rushes In
With The
Next Loaf
Even More Bread Arrives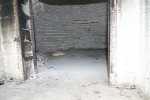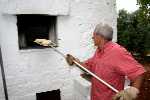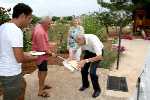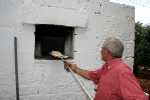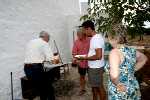 Oven Bricks
Are White Hot
Ready To
Close Up Oven
Ida, Maria, Dale & Nino
Make Focaccia
While Waiting For Bread To Bake
Bread Baked
For One Hour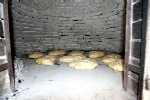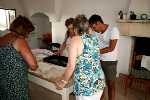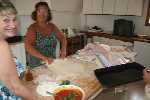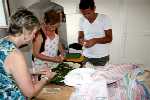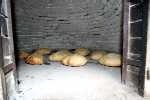 Nuccio
(Tony)
Relaxes
Luigi
Removes
Bread
Dale And Tiziana
Assembly Line Runs Hot Bread
Back To Maria In Main Kitchen
Marioa Wipes
Ash From
Bottom Of
Bread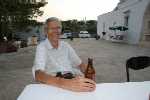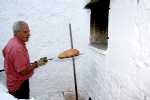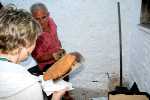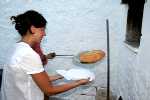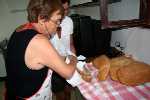 Wildflowers
All Along The
Roads (Look Like
4 O'Clocks)
Former Local
School Across
The Road
Family Gathers
Tony, Katia, Jerome, Dale, Et Al
Nonna Vicenza
Tony, Jerome,
Katia, Dale,
D'Amico Family
Members Just Arrived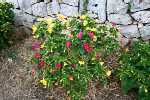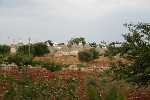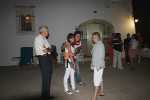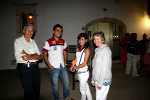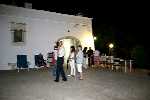 Luigi's & Maria's
Son Nico &
Family Arrives !
Tony & Nino
(Katia's Dad)
Tony Stokes Oven Getting
Ready For Homemade Pizzas!
Esposito &
D'Amico Extended
Family Gathers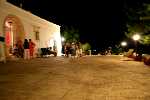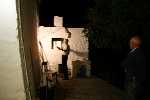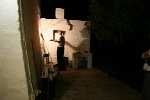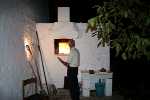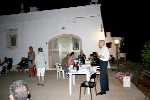 Dale, Tiziana (Luigi & Maria's
Daughter), Katia, Jerome & Nonna Vicenza. Katia's Dad
Nino Is In The 2nd Picture.
Dale, Nino,
Katia & Jerome
We Gave Blue
Seats To D'Amicos
28 Years Ago!
Dale & Barry
Nino
Katia & Jerome
Dale
Nino
Tony
Katia
Jerome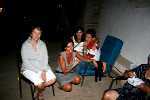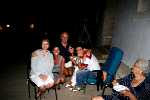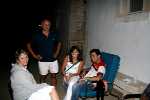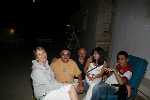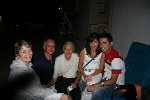 Pizzas Ready !
(Tiziana Doesn't
Look Bad
Either) !!!
Focaccia - Pizza
Straight From
The Oven
Nino (Tiziana's
Husband) Cuts
The Pizza
Katia & Jerome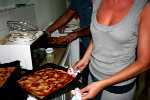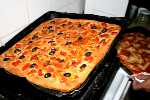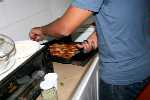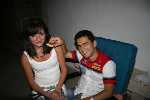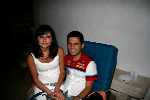 Sunday - 10 August
Today We Visit The Nearby Walled Cities Of
Cisternino And Locorotondo

Details Of Luigi's & Maria's Trullo
Main Apartment Entrance
And
Stone Window
Old Trulli Homes
In The Neighborhood
We're Now In
Cisternino! Tony
At A Typical Cozy
Bar That Sells
Drinks, Sodas,
Gelato, Etc.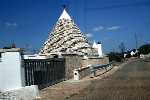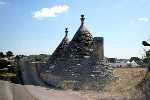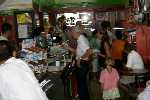 Tony Drove Us To Cisternino
(Tony, Tiziana, Katia & Jerome, Dale & Barry)

Parked Just
Outside of The
Historical District
Old Tunnels Burrow Through City Walls
Everything Is
White !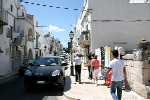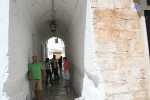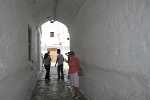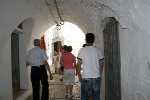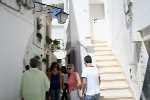 Beautiful Old, Multi-Level, Narrow Streets And Walkways
Lead To The Main Piazza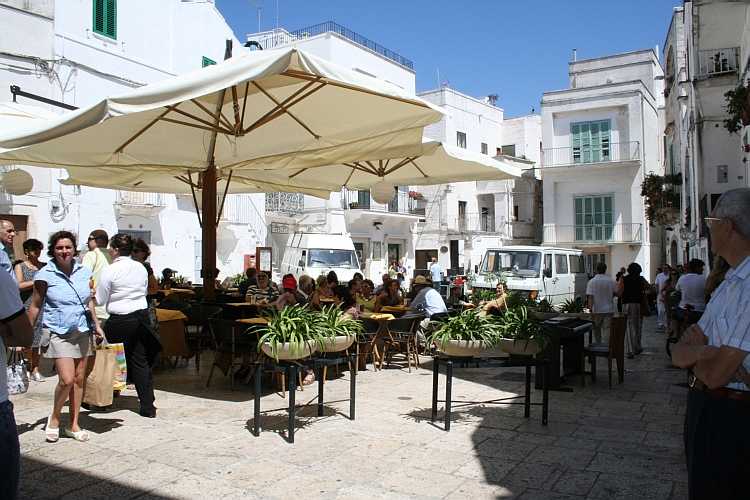 Cisternino Historical Center
Main Piazza With Shops & Al Fresco
Ristorante And Old Clock Tower
(With Bar On First Floor)
Katia
Jerome
Dale
Old Passageways Lead To
Shops And Homes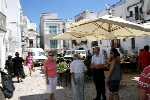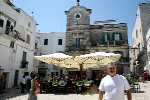 Cisternino Dates From The 12th Century BC
The Current Architecture Dates From The 8th Century AD
Small Quadrangles/Courtyards, Tunnels, Stairways, Flying Buttresses, Half-Hidden Passageways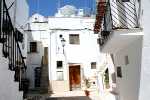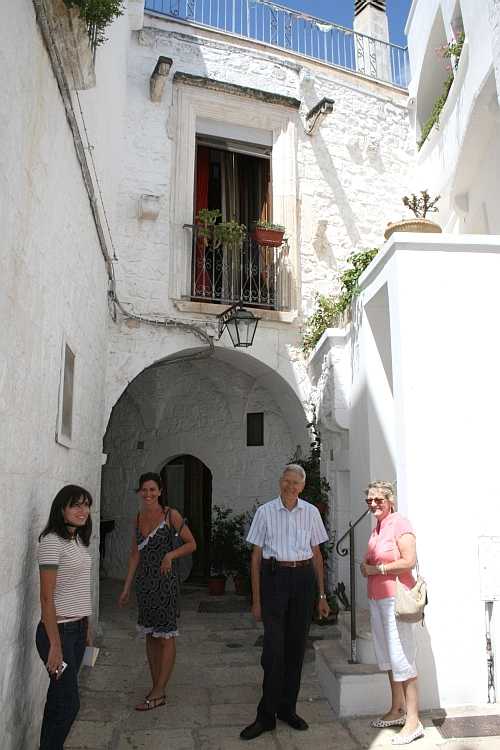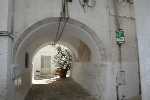 Aquaduct Tower
Mussolini Era
Public
Construction
Project
Jerome & Katia
Tony & Dale
Valle D'Itria
UNESCO-Designated
World Cultural
Region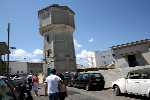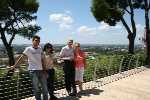 Rooftop
Patios
Everywhere In
Southern Italy
Main Street
Next To
The Pineta
PineTree Park
Cisternino Side Roads
Sloping Alley
And Valley View
Housing
Just Outside
Historic
Center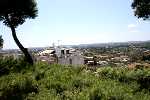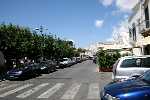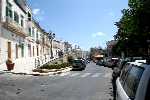 Free Afternoon Concert In Main Piazza
Singers Are Local Area Residents - Excellent Voices !
The Bar
Jerome
Tiziana
Katia
Dale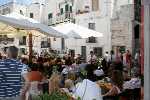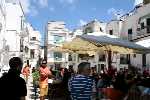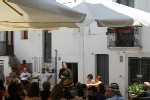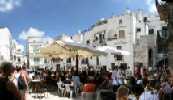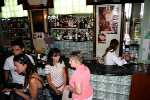 Friendly
Bartender
Makes
Good Drinks !
Concert Continues
In Piazza
Passageways Taken Over
By Many Small Restaurants
Secluded
Home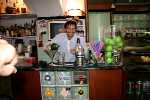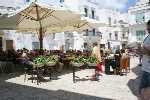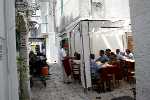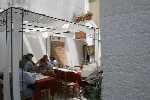 Departing
Cisternino
For Today
Country Road
Near D'Amico
Trullo
Tony Driving
Past
Old Trullo
Luigi Is Waiting
For Us !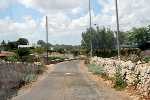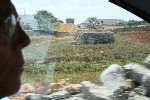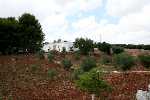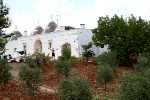 The D'Amico Countryside Neighborhood
Contrada Fasola (Fasola District), Cisternino

Surrounded
By Grapes
Former Country School
Now A Private Residence
Masters
Of Dry
Stone Wall
Construction
Gates To
D'Amico Estate
On Right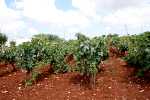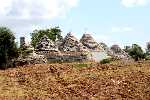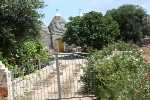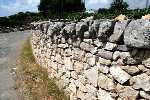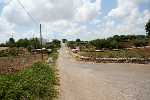 Gated
Entrance
Another
View Of
Former
School
Compound
Katia
Tony
Enza
Luigi
Dale
Jerome
Katia, Dale
Maria Making
Polpette
(Meatballs)
Chicken &
Potatoes Now
In The Oven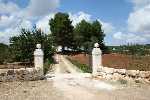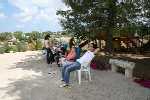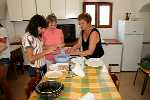 Dale Rings
'Come & Get It'
Dinnertime
Bell !
We're Now At
Nino's House
In Locorotondo
(This Is
Where Katia
Lives)
Nino & Luigi Inspect
Nino's New Lawn & Garden
(Nino Worked On It For
The Past Year)
Nino, Luigi,
And Tony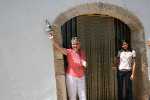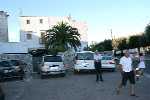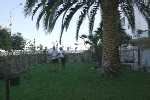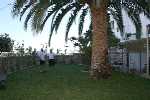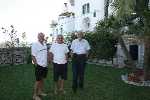 Nino
Luigi
Tony
Locorotondo
Nino's House And Neighborhood Homes
Nino's Garage
Driveway-Patio
Luigi
Tony
Nino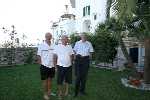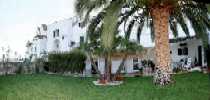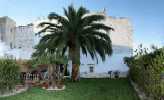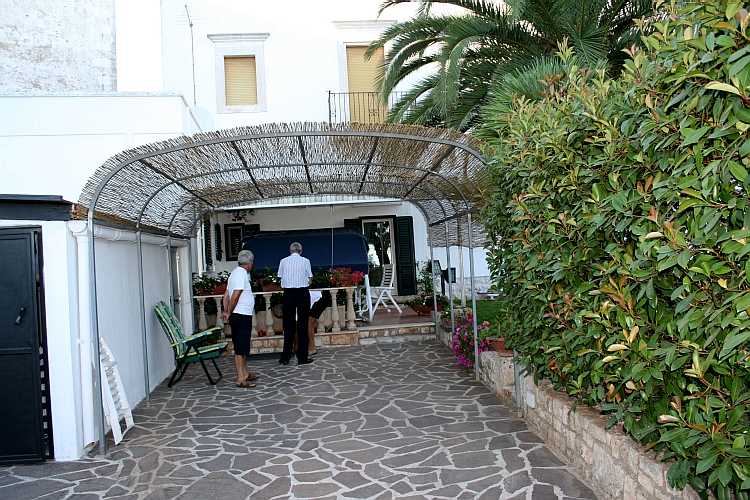 Luigi
A Friend's
Vineyard
Locorotondo
Countryside
Luigi & Nino Use A Friend's Trullo
To Make Their Own Wine.
200 Liters Of Wine Are
In Each Of These Vats!
Luigi - Tony Luigi- Barry
Nino Tony

This Is
The Winery !