Saturday - 06 December
We Visit Charleston, SC With Our Friends, Jerry & Carl Klele

Open Air
Restaurant
Market St
Old Charleston
Famous Sweet
Grass Basketry
Old Market
Charleston
We Just Missed
The Christmas
Boat Parade
Patriots Point
Marina
The New
Arthur Ravenel
Bridge Over
The Cooper River
Dale
Jerry & Carl
Patriots Point
Marina





Patriots Point
Marina
Beautiful Old
Houses On
The Battery
Old Charleston
Jerry & Carl
Mt Pleasant, SC




Thursday - 25 December - CHRISTMAS DAY !

Our
Christmas
Tree
Dale & Barry
Opening Christmas presents
Bandit The Cat
Gets A
Present Too !
Hi To Everyone
Dale & Barry






Christmas Day - 25 December
And
Saturday - 27 December

Dale & Barry
Christmas Day
Crottys
And
Bunnells
Christmas Dinner
Outside Christmas Lights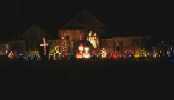 Our
Lights
Neighbor's
Lights
More Of Our Lights Around The House





Dale Relaxes In The Living Room
All Decorated For Christmas !





Wednesday - 31 December - NEW YEAR'S EVE !

Chuck & Karen
Dale & Barry
Chuck & Karen
Ready To Go
Out On The
Town!