Sunday - 27 September
Visited Anna's Sister Margaret In Eelbrook
(Anna, Christine & Margaret Are Barry's Mother's First Cousins).
Dinner With The Bourque 'Clan' At Precille & Armand's House
Tonight!

Barry
Margaret & Al
Pottier
Basil LeBlanc
Claude
Jeanette LeBlanc
Barry
Margaret & Al
Pottier
Glen, Anna,
Janelle, Claude,
Alice, Deanna,
Dale & Roland
Anna
Deanna
Dale
Cousin Roland
Anna




Roland
Anna
Deanna
Dale
Armand
Claude
Barry & Anna
Barry Gets
An Early
Birthday Cake!
Barry Cuts
The Cake!
Armand, Evelyn,
Roland, Deanna
& Claude's Head!
Claude !
Barry
Nicholas
Alice
Glen
Happy
Anna
Armand






Monday - 28 September
Today Claude & Deanna Drove Us North Along The Bay Of Fundy
To Historic Fort Anne/Annapolis Royal & Port Royal !

Claude's
Workshed
Claude &
The Bourque Inn !
Fort Anne At Annapolis Royal





Barry & Dale
Historical
Marker
Fort Anne
Oldest National
Historical Site
In Canada!
Deanna & Dale
French Powder
Magazine 1708





Claude
Lawns Everywhere
At Fort Anne!
Barry Checks
Out A
Cannon
Claude & Dale
Dale & Maggie
French Powder
Magazine





Dale
The Dungeon
Dungeon Exit
Deanna
Dale
Claude




Claude & Maggie
Annapolis Royal
From
Fort Anne
Lawns
Fort Anne
Deanna
Barry & Dale





Deanna & Dale
Fort Anne At Annapolis Royal,Nova Scotia




Fort Anne At Annapolis Royal
Claude & Dale
The Habitation
1605-1613
Port Royal
Dale



"Sabot"
French
Wooden
Shoes
Claude &
Wayne Melanson
Ninth
Generation
Acadian
Dale
The Habitation
Claude
Dale
Wayne Melanson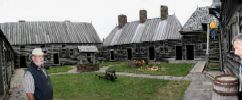 Wayne Melanson
'Presentation
Supervisor'
Parks Canada !
The Habitation
Port Royal
Common Room
Craftsmanship!
No Nails Used!
2nd Story
Craftsmen
Sleeping
Quarters





Dale
Craftsmen
Sleeping
Quarters
No Nails!
Wayne Melanson
And
Claude
View From
Sleeping
Quarters
Claude
Outside Stairs
Built Without
Nails





2nd Floor
Storage Area
Dale
The Habitation
Port Royal
The Habitation
Birch
Bark
Canoe
Canoe And
Pelts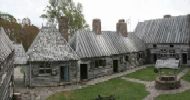 Beaver Pelts On Stretchers !
Wayne & Dale
Dale
Wooden Palisades
Enclosing
The Cannon
Platform
Wayne On
The Palisades





The Habitation
Is Right On
The Water!
Distant View
Of Fort Anne
And Annapolis
Royal
Returning Home!
Smith's Cove
Along The
Coast
Digby Gap
Barry
In Digby, NS





Dale & Barry
Digby, NS
Views Of Digby
ESSO Gas
Stations Here!
(It Became
Exxon In 1964)
When We Were
In Texas!
Gilbert's Cove
Light House






Tuesday - 29 September
Today We're Off To Lower Pubnico And Sandford !

This Is 'Dennis Point Wharf' in 'Lower West Pubnico'






Pubnico Point
Wind Farm
Deanna & Claude
Tante Anna
(Antoine's Sister)
90 Years Old
Nakile, NS
Sandford Fishing Community Harbor






Barry, Dale & Claude
On Top Of The Littlest Drawbridge In The World
Sandford Harbor, NS






Dale Atop
Drawbridge

Sandford Wharf System, Shanties, Narrow Channels
And Inner Sanctuary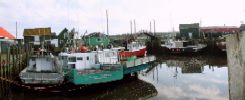 Sandford
15 Minutes
From
Downtown
Yarmouth
Dale & Barry
Lobster Traps
Sandford
Sandford
Shanties
Idyllic
Inlet
Arcadia
Just East Of
Yarmouth
Tusket River
By Carl's
Store






Wednesday - 30 September
We Return to Portland, Maine Tomorrow!

Buttes
Amirault
Road Sign
My Great-Aunt
Octovie's House.
I Stayed Here
As A 7 Year Old!
Dale At
Anna's House
Anna, Happy,
And Alice's
House.
Anna & Barry





Nicholas Has
Grown!!
Anna
Barry
Alice
Anna & Barry
Barry
Holy Family
Parish Sign
Amiraults Hill
Haystack
History





The Haystacks In The Salt Marsh!
Amirault's Hill Is
Just Around The Bend!



Trip Story Continued: See October Photos !