Saturday - 24 April
Entering The Panama Canal's Gatun Locks At 5:30AM !!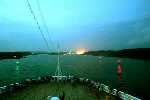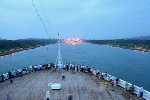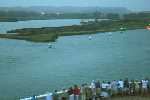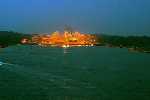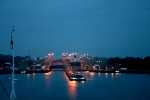 Lighthouse
To Left Of
Gatun Locks
Dale Says
It's Too Early!
Entering Gatun Locks
"Mules"
Locomotives
Are Ready
For Us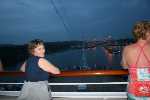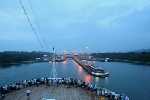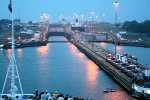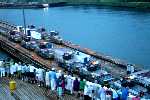 Entering
Gatun Locks
Millions Of
Gallons of
Water Used
Each Transit
In We Go !
Locomotive
Moves Into
Position
Lock Filled
In Adjacent
Chamber And
Vehicle Bridge
Temporarily
Open !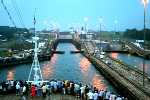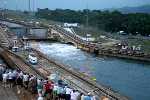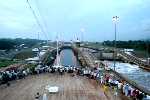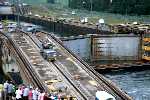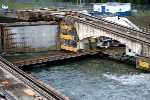 Another Ship
Already
Elevated In
Adjacent Lane
We Move
Into First
Chamber !
Locomotive Has Lines
Tied To Us
Now We Wait
For Our Chamber
To Fill Up !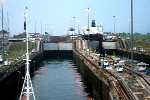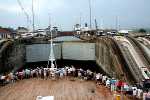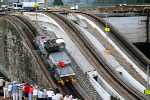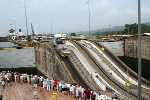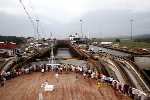 Sandy, Dale
And Pat
Gatun Locks
Panama Canal
Dale & Barry
We're Up!
Now Moving Into
Second Chamber
Administrative
Buildings
Gatun Locks
Sandy & Skip
Gatun Locks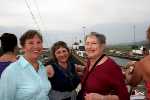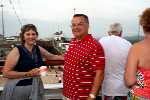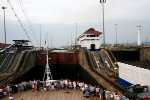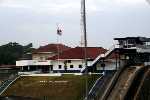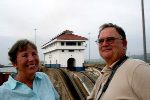 Mule Guides
Us Inside
Second Chamber
Gatun Locks
Barry
Gatun Locks
Control Building
Pedestrian Bridge
On Top Of
Lock Gates
Dale
Ship Is
Elevated Again !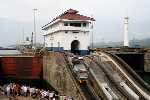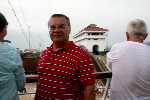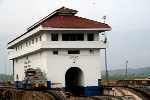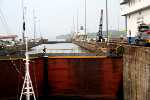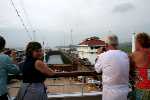 Gates Open.
We Move Into
Third Chamber
Gatun Locks
Locomotive
Mule Pulls
Us Along !
Dale
Almost To The
Double Gates Of
Third Chamber
Island Princess Cruise Ship
Enters Gatun's Third Chamber
Beside & Behind Us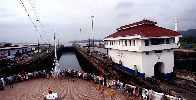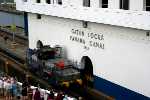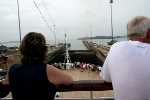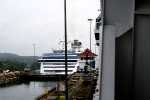 Double Locks
At Each End
Of This Chamber
In Case A
Ship Rams A Gate
(Flood Control)
We're Now
85 Feet Above
Sea Level
Wes Taking A
Picture of Me
Taking Picture
Of Him !
Entering
Gatun Lake
85 Feet Above
Sea Level
Dale
Entering
Gatun Lake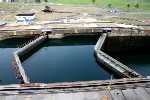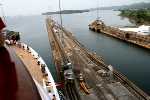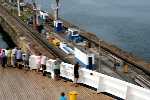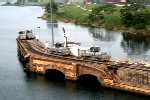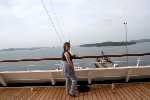 Gatun Lake
Dam
Relaxing On
Deck Six
And Watching
The Sights
On Gatun Lake
20 Miles Of a Ship's Transit
Through the Panama Canal
Is Via The Gatun Lake
Golden Shower
Guayacan Trees
Gatun Lake Shoreline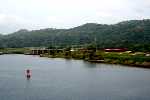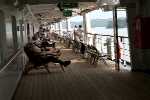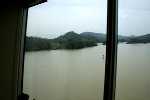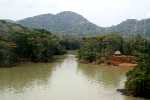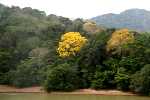 Views Of
Gatun Lake
Panama
Canal
Railway
Small Boats Also Transit The Canal !
Panama
Canal
Dredge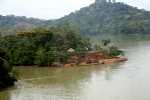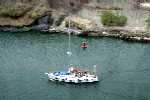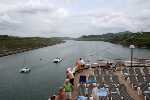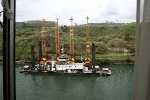 Gold Hill
Gaillard Cut
Centenario Bridge
Centenario Bridge
From The
Ryndam Bridge
Puente Centenario and The Pan-American Highway !
It Connects North & South America !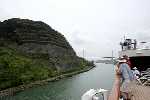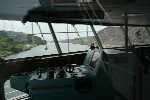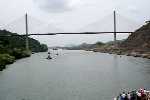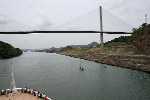 Building Six New
Locks To Be
Opened in 2015
Entering The
Single Chamber
At Pedro Miguel.
We Drop Down
31 Feet Here !
Pat
Pedro Miguel
Locks
Pedro Miguel Lock
We Catch Up With Small Boats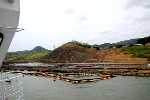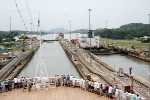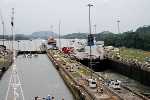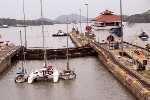 Leaving
Pedro Miguel
Entering
Miraflores Lake
Pedro Miguel
Control House
We're 31 Feet
Lower, And
Entering
Miraflores Lake !
Pedro Miguel
Yacht Club
Closed For
Security Reasons
Abandoned Yachts
Available !!
Barry
Fort Clayton
In Background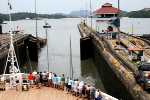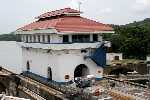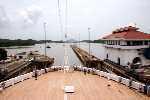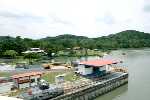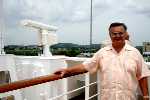 Fort Clayton
The Last
U.S. Base
Handed Over
To Panama
Old, Small Observation Platform
And Huge New Visitor's Center!
I Spent A Lot Of My Free Time Here
In 1985-1986
New Visitor's
Center And
Miraflores
Control House
Barry
Miraflores Locks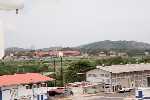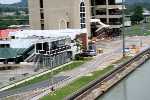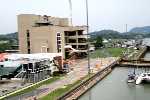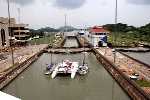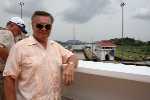 Water Lowered
In First
Chamber
Barry & Dale
Miraflores Locks
Waiting To Enter Second Chamber
Each Gate Is 7 Feet Thick
Each Chamber Is 110 Feet Wide
And 1050 Feet Long
Miraflores
Control House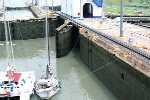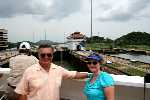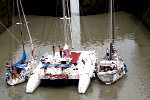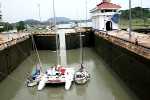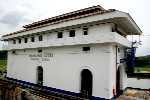 Entering Second
Chamber
Miraflores Locks
Loud Cheering
From New
Visitor's
Observation
Building
Mule Tows us
Into The
Last Chamber
Fort Clayton Headquarters Building
Is Now The City Of Knowledge Etc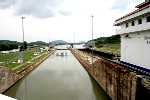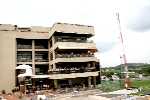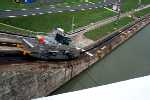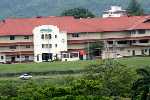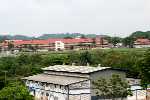 Miraflores Locks
Lowered us
54 Feet To
Pacific Ocean
Level !
Giant
Swing Bridge
For Vehicular
Traffic !
Our Old Office
Location Atop
Quarry Heights!
Ancon Hill
Panama City
Bridge Of
The Americas
The
Catamaran
Girl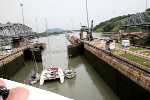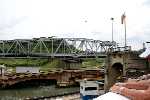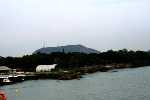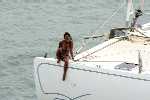 Panama Canal
Administration
Building
Balboa Heights
End of Canal
Naos, Culebra,
Perico And
Flamenco Islands
Quarry Heights
Bridge Of
The Americas
Quarry Heights
And
Panama City
On The Right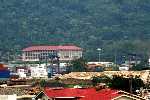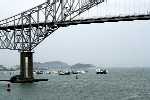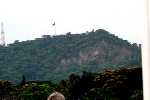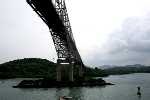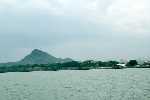 M/S Ryndam Passes Fort Amador,
Now A Commercial & Tourist Area
With A Public-Access Causeway
To Panama City

>
Wes, Dale, Pat,
Skip & Sandy
Upper& Lower
Rotterdam
Dining Rooms
The Yum Yum Man
After Dinner
Mints, Etc.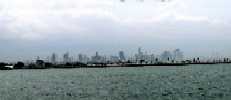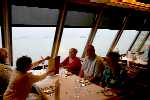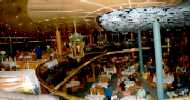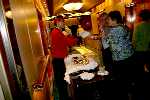 Sunday - 25 April
We Anchored By Fort Amador last Night.
Today We Go Ashore To Visit Panama City !

Casco Viejo (Old Quarter)Is The Oldest City In Central America !
Very Poor Area But Its French & Caribbean Colonial Buildings Are Now Being Renovated!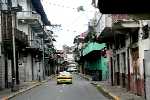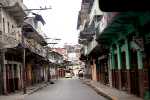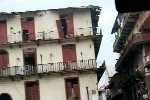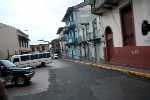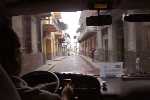 Tourist Police
New & Old
Buildings
Casco
Viejo
Dale & Barry
Cathedral Municipal, Plaza Mayor
Barry
Offices Of
Ferdinand DeLesseps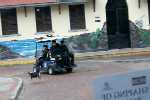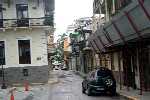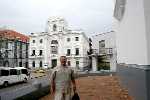 Side Streets Off Plaza Mayor
Casco Viejo, Panama City
French
Embassy
Plaza De Francia
Dale
Plaza de Francia
Former Official
Home Of The
Mayor, And The
Military Barracks
Dale
Panama City
Skyline From
Plaza De Francia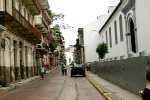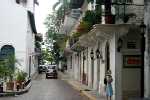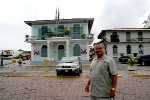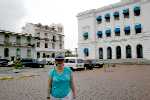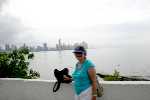 Barry & Dale
Plaza De Francia, Casco Viejo, Panama City
Dale
Typical Renovations Of Casco Viejo
Buildings! 'Gut The Inside' And Retain The Original Facade. Beautiful!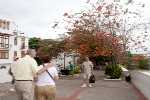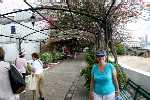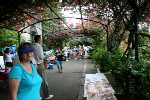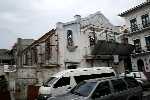 Noriega's Officer's Club Now Being Renovated Into A Hotel!
Noriega Murdered His Enemies Here
And Threw Their Bodies into The Ocean!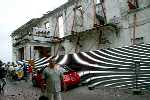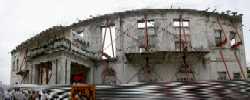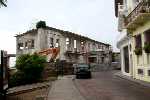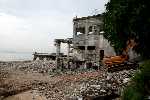 National/Tourist Police
Police Station
Casco Viejo
Gorgeous
Architecture
(Oh Yeh - Dale Too)
Tree grows
On Wall
Barry
Boliva Plaza
Casco Viejo
Panama City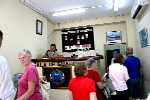 Dale
Bolivar Plaza
Palacio Bolivar
Bolivar Plaza, Casco Viejo
(Old Quarter, Panama City)
Residential
High Rise
Panama City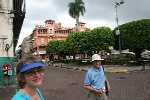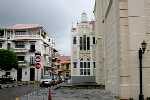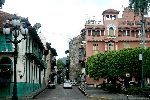 Panama City
Skyscrapers
Are Mostly
Residential,
Not Commercial
Buildings
Unusual
Twisting
Skyscraper
Architecture
Noreiga's
Neighborhood
Noriega's
Front Gate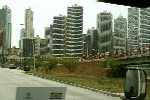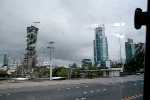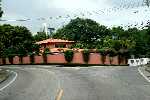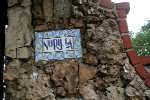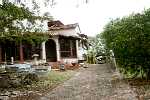 Noriega's House
Near Ruin
Noriega's House - State Property - No Entry!
Caesar Park Hotel
Now Is The
Sheraton!
(Where I
often stayed
1985-1986)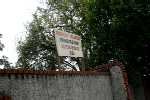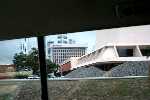 Caesar Park
(Sheraton). The
Convention
Center Next Door
Hosted The 1986
Miss Universe
Contest!
Trump Ocean
Club Tower
Under
Construction
Circular Holiday Inn Is Surrounded By High Rises!
Now Re-named As The Plaza Pantilla Inn !
(Stayed Here On My TDYs With John Kohl)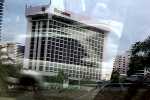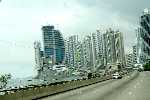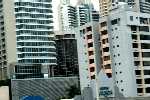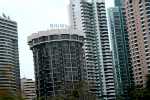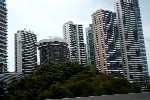 Holiday Inn
Is Now The
Plaza Paitilla Inn
Old Balboa Hospital
Balboa Heights
Canal
Administrator's
Home
Balboa Heights
Typical
Landscape
On Balboa Heights
And
Quarry Heights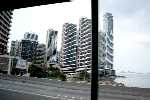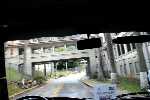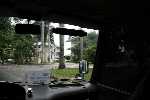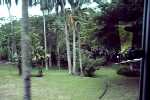 Panama Canal Administration Building
Street To
Administration
Building
Barry
Panama Canal
Administration
Building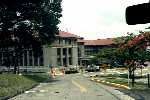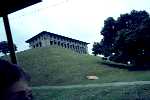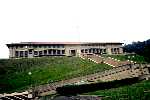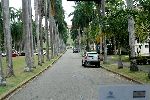 Barry
Panama Canal
Administration
Building
Barry
View From Administration Building
Purple-Flowering
Jacaranda Trees
U.S. Canal
Zone Buildings
Are Now
Panamanian
Offices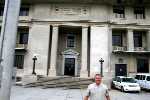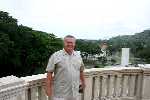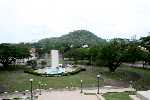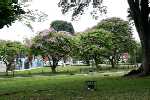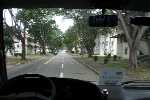 Typical
Canal Zone
Architecture
Return To
M/S Ryndam
From Amador
Storm Is Coming !!
Island Covered
With Bird
Guano !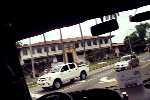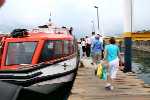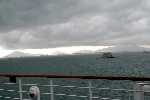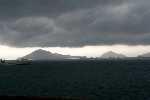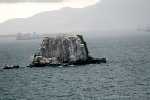 Panama City
Skyline From
Fort Amador
Anchorage
Islands Linked By
The Amador Causeway
Stormy Panama
City Skyline
Ships Waiting
For Their
Turn To Go
Through
The Canal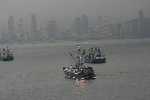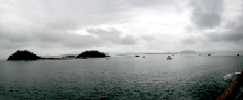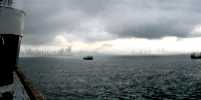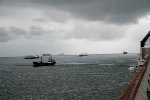 Panoramic Views of the Panama City Skyline !