To view the full size picture,
Left Click on any of the "thumbnail" pictures below.
Click on your BACK button to return to this page !


Sunday - 27 June
Back In Florida To Pick Up A Couch Etc.
Drove Up To Homosassa To Visit With Pat & Wes Brockway

Wes & Pat's Pool
Wes
Snazy New Grill !
Dale
Wes & Pat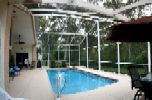 No More 'June' Pictures.
I've been too busy working every day, hauling mulch and compost from the Myrtle Beach dump and re-doing all my gardens!